A Most Holy Book
Angel Presence Angel Presents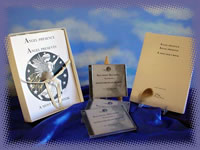 Angel Lightfeather, a divinely inspired being, awakened in sight, hearing and vision – A visionary of these times, has spent the past three years writing divinely inspired messages in white light from God and Angelic Beings of Light. She has traveled to the other side and brought with her many gifts of healing and messages of light for mankind. She has traveled where most only see when they die and forget.
"the first good religious book for a hundred years. This is The New Testament for this God-Powered millennium. The first real contact with God attainable by everyone. A fantastic account, makes me yearn to hear the bells of God. Lead on," Klaus Kroeger, Boulder, Colorado
Angel Lightfeather carries messages for our country and our world. Be Blessed as you receive the divine Masters Messages – Words from Jesus explain the times of the Now. Angel Lightfeather works directly with Jesus, and many other divinely enlightened beings of Light.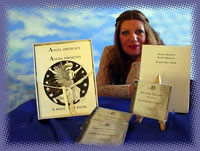 Angel Lightfeather, author of her newest title "Angel Presence Angel Presents – A Most Holy Book", a Collectors Edition is presented in a beautifully non-traditional-unbound form. The pages are illustrated with Angelically inspired beauty and gathered in a handmade paper and wrapped in a tie of white doe embellished with a small crystal and three loose feathers placed on top.
The book emanates blessings and light from Angels. Angel Lightfeather presents a literary work that was written and illustrated by the divine beings. Make a prayer. Wherever the book opens there is your divine message. The work is based on an earlier work 'Angel Presence Angel Presents – The notebooks of Angel Lightfeather.' In this tome is recorded the exact time, location and event of interactions with Jesus, God and Angelic beings of Light over a three year period. For it is the great Power which holds all of the stars in the sky and gives us all a heart beat – This is God. This work is love. Angel Lightfeather has taken the pen written the messages, and is an empty vessel through which these words are spoken. She comes bearing many gifts. Be Blessed dear one and know you are touched by the Love and the light of God.
"When I opened the book I got goose bumps all over me. I saw a beautiful vine of roses form a heart around me and I knew Jesus touched me through the work of Angels book 'Angel Presence Angel Presents A Most Holy Book. Bless you" 
This is the Newest Release from The Angelic Light Research Institute.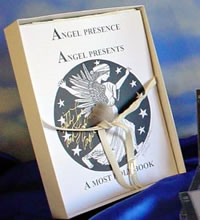 ANGEL PRESENCE ANGEL PRESENTS A MOST HOLY BOOK LIMITED COLLECTORS EDITION
signed and numbered. 333 copies available of the Collector Edition. Comes with a Letter of Authenticity. Signed in gold by the author Angel Lightfeather. Beautiful non-traditional unbound work wrapped in hand made paper and tied with white doe adorned with a crystal. Contained within this package are beautiful literary works of divine messages that lift the soul to new heights of illumination. The pages are artistically endowed with inspirational drawings. $ 333.00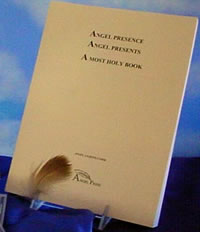 Purchase the Limited Collectors Edition now!
Another New Release from The Angelic Light Research Institute…
ANGEL PRESENCE ANGEL PRESENCE A MOST HOLY BOOK WORDS FROM GOD AND THE ANGELS ( A Soft Cover Unillustrated Version) $ 33.30 (Plus $5.00 shipping and handling) 
Check Out A Most Holy Book On CD!
Please email:[email protected] with any questions about your order or to order by check or money order.
Or Call Angel Lightfeather in Sedona: 928-451-1222
Please send donations to:
The Angelic Light Research Institute
Divine Healing & Miracles
Rev. Angel Lightfeather
P.O. Box 1375
Sedona, Arizona 86339
(928) 451-1222